Wondering how to teach multiple grade levels?
Read this helpful homeschool guide!
What does Beautiful Feet Books offer for each grade?

The chart below shows our core and supplemental curriculum organized by grade level.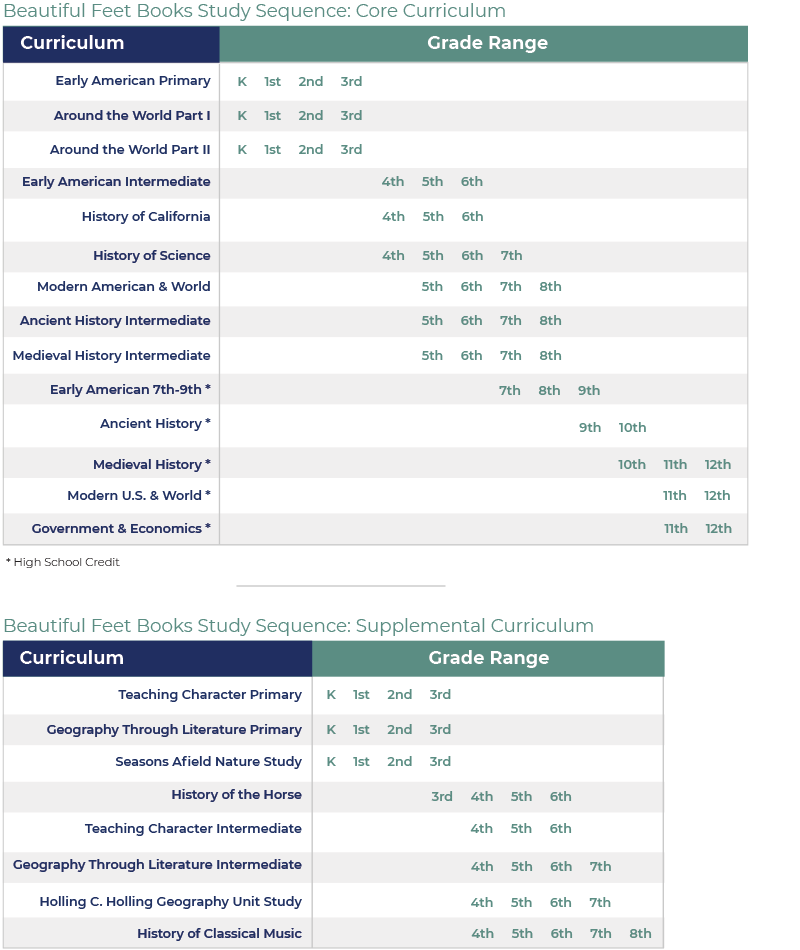 Click here to download and print this chart.
What if I want to use Beautiful Feet Books for grade levels 1-12?

Here is our suggested homeschool curriculum path through all grades.
Grade 1 | Early American History Primary + Teaching Character Primary
Grade 2 | Around the World with Picture Books
Grade 3 | History of Science + Teaching Character Intermediate
Grade 4 | Use either History of California or History of the Horse
Grade 5 | Early American Intermediate + Geography Through Literature
Grade 6 | Modern American & World
Grade 7 | Ancient History Intermediate
Grade 8 | Medieval History Intermediate + History of Classical Music
Grade 9 | Early American for 7-9th
Grade 10 | Ancient History Senior High
Grade 11 | Medieval History Senior High
Grade 12 | Modern U.S. and World History for Senior High
*All programs above are one-year studies with the following exceptions:
•Teaching Character can be used in any amount of time. These book studies are purely for reading enjoyment and do not constitute an academic curriculum.
•Geography Through Literature is a semester course but can be stretched out over a year by completing one lesson per week.
To read more about our Charlotte Mason-based teaching philosophy and why we begin with early American history, click here.